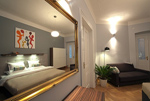 Stay in beautiful places in Prague, we offer quality living in the apartments for long term rent. Brehova Residence offers a unique one, two and three bedroom apartments that are equipped to meet the most demanding users. The price is of course included 24/7 service and high speed internet. Design suites is a unique combination of art nouveau and modern art. Among our clients for long term rent belong actors, movie staff, mangers, families and business travellers.

Apartments in the Brehova 8 residence feature a unique combination of style, spaciousness and state of the art equipment and fittings. Each of the 12 apartments for long term rent is fully furnished and equipped to meet high standards of living and to provide an immediate housing solution for high demanding guests for short term and long term rent in Prague as well. Wonderfully spacious living rooms and bedrooms with two bathrooms as standard (in larger apartments) are a perfect choice for those requiring maximum flexibility and intimacy even when travelling with friends or family. Fully sized kitchens with all the appliances, 24/7 concierge service, Internet connection at no extra cost and daily maid service upscale the value provided. One, two or three bedroom apartments vary in size from 76 to 220 square meters. Some bedrooms are especially designed for families travelling with children and some for Prague apartments long term.

Some of our clients said about Residence Brehova:
Through PragueCityApartments I rented the flat 11 of the residence in downtown Prague (tr-s-tourism too ...). Residence in the city center but not too crowded in the Quartier tourists. Very clean, spacious, well decorated, functional and very nice. (Source Tripadvisor)

Six friends from differerent provinces in Canada and from Scotland, meet when possible in various parts of the world. Our week in Prague at the Residence Brehova was one of our best experiences ever. The apartment was clean, spacious, quiet and in a perfect locations that allowed us to walk everywhere. We were near all the historical and architectual sights, close to good restaurants and grocery stores. The staff at Prague City Apartments were professional and very helpful in all aspects of arranging our holiday -- from airport transport to obtaining theatre tickets and deliverying them right to the apartment for us. (Source review.prague-city-apartments.cz)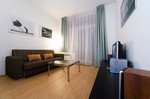 These apartments are located near the National Theatre in the city center. Exceptional location and tranquility these apartments give recommendations for Prague apartments long term stays or families with children. Become part of the historical center of Prague, and try living in apartments Apartments National Theatre. This Residence is in a quiet street behind the National Theatre. Apartments are spacious and tastefully furnished and offer comfortable accommodation in an excellent location. In the top floor apartment you can enjoy a terrace. These apartments are also suitable for long term stay in Prague.

National Theatre apartments are very popular among our clients in terms of Prague apartments for long term stays. They are cheaper but still very high standard. In addition the apartments have a balcony with views over the Prague's roofs including National Theatre. In this residence you can find one bedroom apartment and two bedroom apartment.

I am going to include review of our satisfy clients:
When we head back to Prague (and we will) we will be staying with Prague City Apartments. The location we had was perfect for our trip. As it was our honeymoon we wanted something central and small with a kitchen, WIFI and Laundry. It was perfect. We also know that if we travel back with a family or friends that Prague City Apartments will be able to take of our needs. (Source review.prague-city-apartments.cz)