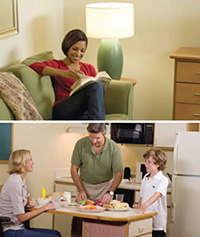 The first point what is need to ask is the price. Is the hotel long term stay cheaper than long term stay in apartment? If you compare the prices on the internet you will find that for long term stay you are able to negotiate the price with property. And if you go deeper you will find that the prices may be similar for long term stay. Of course, it depends on location and the level of services but if we are going to compare the price of the centre location and of the four stars hotel to Prague apartment of four star rating we will end with similar prices for month stay. So the first battle will have no winner.

What about the level of service. In the four star hotel you will find the same level of service for your whole long term stay in hotel which is usually nice service including daily maid service, Wi-Fi internet, 24/7 reception, breakfast in the building and all other meals in the building, laundry, fitness, swimming pool and so on. What about the apartment? In that case apartment will have a little bit of disadvantages. In our Prague apartments for long term we can provide daily maid service, 24/7 reception, daily maid service, free Wi-Fi connection and we can help you with managing your free time but our building do not have in-house restaurant or swimming pool. On the other hand our front desk is able to outsource all mention in-house facilities for you.

Next chapter is about space in hotel rooms vs. space in apartments. It is no doubt, that in this part the winner is apartment. Just only imagine if you are staying in Prague for long term and you are staying in tiny hotel room for several months or you are staying in serviced Prague apartments for several months. Now make you decision.

If you are talking about space there is need to take into the consideration also privacy. With regards to hotel long term rent it is obvious that you can find less privacy in hotel than in apartment. Our serviced apartments for long term rent in Prague offer a lot of space and privacy. In other words if you have busy days than you will appreciate stay in privacy in fully furnished spacious apartment instead of staying in busy hotel in small rooms with lack of privacy.

Cooking and food is the next variable. If you like to cook for yourself than the apartment is only choice and if you do not like to cook than you can go out and find appropriate venue or if you are staying in hotel than you may have a dinner included in the price of your stay. Nevertheless, if you are looking to save money within your long term stay in Prague than the way of renting the apartment is very worth for you. So you can save important amount of money by stay in Prague apartments for long term and cooking for yourself.

Next advantage of apartments for long term in Prague is in having a pet in you apartment. Most of the hotels in Prague have forbidden access for your pets. On the top of that we do not charge for smaller pets like cat or small dog. However, if you are going to bring bigger pets in size of horse we will have to charge you as well. In the end, apartment staying offers pet free service.

In summary, it depends on your needs which of these services will you choose for long term stay in Prague. However, if you are staying longer period than most of corporate and business travellers would choose apartment in Prague. Long term travellers will appreciate especially space and privacy and they are finding apartment stay more appropriate for longer stays.

Prague City Apartments offers temporary housing solution for long term rent for travellers to Prague, large corporate apartments with style and convenience with more space, privacy and freedom at a lower cost then most hotels! It is solution for:
Corporate housing for rent
Extended stay business individuals
Relocations
Temporary or long term assignments
Project teams
Training programs
Families with children

Our company Apartment.cz offers accommodation in Prague apartments long term. As it was mentioned we have studios, one bedroom, two bedroom and three bedrooms apartments in Prague. All of our apartments are situated in the center of Prague in several building including Residence Karolina, Residence Brehova, Residence Masna, Residence Rybna, Residence Karlova and National theatre apartments. All of our serviced apartments are suitable for long term rent and are fully furnished and equipped.
Summary why to stay in Prague apartment for long term:
Up to 30% savings
Outstanding location
Easy to move in / out
Rates for group
Fit any budget
24/7 assistance

Free internet
Fully furnished

Equipped kitchen
Tailor-made services

No hidden costs
Friendly environment

Consolidated billing
Modern equipment

Spacious apartments
Privacy
First steps in Prague
Our goal is to make your stay easy and enjoyable and we are looking forward to host you in Prague for your short term as well as for long term stay in our Prague apartments.
To get more familiar with our apartments let me introduce you Residence Brehova and National Theatre apartments from our offer.