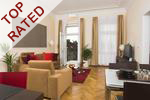 This is our top rated property on Tripadvisor. We offer accommodation in the best apartments in the center. The Residence Karolina is a few steps to the Old Town Square and the Charles Bridge. Apartments are located near the Narodni Street, however, own the street is very picturesque and quiet. Say goodbye to the hotel and enjoy your stay in our Residence Karolina. If I am going to use the most frequent words in reviews of Residence Karolina I will end up with these:

Old Town – our Prague apartments for rent in Residence Karolina are located in Old Town. In addition, Old Town is the part of Prague which is very old. You can find many valuable sights there and you will find there many interesting venues including bars, restaurants. A few notes with regards to history of Old Town:

The major sights include the Old Town Square, Old Town, which is located at Town Hall with the famous Astronomical Clock. Old Town together with the Lesser Charles Bridge. Many important sights are concentrated around the royal road leading from Powder Celetná Street, Old Town Square and Charles Street to Charles Bridge where continues through the Lesser Town area of Prague Castle. At the Old Town are a number of important Gothic and Baroque churches.

Another frequent words in terms of Prague apartments for rent in Residence Karolina is Charles Bridge. Charles Bridge is the oldest standing bridge over the river Vltava in Prague and the second oldest bridge in Czech Republic. In Bohemia, it was the fourth in a stone bridge structure.

Last frequent word I would like to mention is Would definitively stay again. Prague apartments for rent in Karolina Residence.

Residence Karolina offer 20 Prague apartments for rent. Including sixteen one bedroom apartments and four two bedroom apartments. Let me describe you each of the type.
Executive One Bedroom Prague apartments for rent is 70 square meters large, it has fully equipped independent kitchen with a view into the living room. Wi-FI, washing machine and dish washer, central heating and air conditioning are included.

Family One Bedroom apartment is 72 square meters large. It is suitable for short term rent as well as for long term rent. The atmosphere is very romantic, luxurious and refined with a classical style and very elegant furniture and it has similar equipment like Executive apartment.

Superiror One bedroom apartment is 80 square meters large. This one bedroom apartment is designed for 2 adults or families with children are even suitable to accommodate 4 persons if using an extra sleeping facility in the living room.

Last Prague apartments for rent in Residence Karolina is two bedroom apartment. You can find four two bedroom apartment in Residence Karolina. This one is called executive and it is 90 square meters large. It provides maximum comfort for two staying couples and additionally you can accommodate other two friends on rollway sofa.

Next property I am going to introduce with regards to Prague apartments for rent is Residence Masna.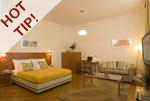 Residence Masna is budget solutions for travellers. Masna Residence offers accommodation in the historical center of Prague near the Old Town Square - but in a very quiet street. With sufficient size it can satisfy clients for short term stays, as well as for long term stays. Why stay in Prague hotels when a better price you can live in great apartments. In other words Residence Masna belongs among our Prague apartments for rent into budget class, it means that if Karolina is our gem than Residence Masna offer the same service with a little bit lower standard.

You can find four types of apartment standard studio and one bedroom apartment then standard one bedroom apartment and executive one bedroom apartment.

Nowadays we can offer 16 Prague apartments for rent in Residence Masna, four types of each. The building itself lies in the heart of Prague historic center with many traditional Czech restaurant in the neighborhood, with the Old Town Square just 200 meters away. Other major landmarks include; Charles Bridge (5 min), Prague Castle (15 min) and the Jewish Quarter (2 min) all of which can be reached by foot.

In terms of Tripadvisor and its frequent words I will pick only a few of them. As it was mentioned it is Old Town Square, next important word is very clean. Let me stop for a while with this word. Our goal is to make you stay easy and enjoyable; therefore, we are trying to do our best including service and cleaning. Our housekeeping department take any note about worse cleaning very seriously and as a result we can see that clients have rewarded us with excellent rating with regards to cleaning and we are proud of it. Another word is Train Station, it does not matter whether you come to Prague by plane or by train we will arrange complimentary pick up for you. When you come to Prague Train Station Masarykovo or to the main station you will find that Prague apartments for rent in Residence Masna are reachable within several minutes of walking.