Apartments for rent in Prague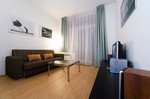 There are two options of using the apartments for rent. First is short term rent which is for leisure clients like couples on weekends, families with children or elder clients. Second is long term Prague apartments rentals which are arranged for business travellers. Usually there is no difference in apartment fittings. You can find same equipment and facilities in the apartment for short term rentals like for long term rent in Prague. It is no doubt that staying in apartments for longer period is essentialy better because the clients can feel more differences in comparison with hotels. The advantages like more space, privacy or flexibility is more visible in that case.
Apartment rent in Prague
The same rule is valid for Prague apartments as well. It is no secrets that travellers are looking more and more for renting the apartment in Prague for short term rent. They are replacing hotel inquiries in lieu of apartment booking. However, apartment providers are looking for long term rentals as well. The big advantage for long term rent for providers is in better cash flow. The typical client for long term rent is business traveller or for instance foreign teacher.
Which kind of apartment do you prefer?
The first criteria in decision making is price. The price is derived from the location of the apartment in Prague, the quality of service or the size of the apartment. In other words, clients can harly find top quality apartment in the centre of Prague. For example, teacher does not need to have centrally located flat but for some managers the location in the centre is very important. Again, the servis is not the first point for foreign students; however, high demaning clients do not stay in low quality apartments. Finally, if the manager for long term rent is staying with his family than the apartment with more bedroom does play essential role in decision making.
Prague City Apartments
We are offering broad supply of the apartments. Nevertheless, we are specializing in top quality apartments in the centre of Prague for short term rent as well as for long term rental. We are trying to fit all inquiries. Our goal is to make your stay easy and enjoyable. We have many satisfied clients from the short term point of views as well as from the long term poing of view.
Our Old Town Prague apartments
****Residence Brehova - Spacious Apartments
****Residence Masna - Old Town Apartments
****Residence Karolina Prague - Top Apartments
****Residence Rybna - Apartments in Prague Centre
****Residence Karlova - Top Quality Apartments
*** National Theatre Apartment - Budget Apartments
*** Pension Borsov - Prague Bed and Breakfast