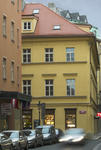 Rybná Residence offers fully equipped serviced apartments in Prague in a newly renovated building from the 15th century. The apartments are ideal for demanding corporate clients, but also for short stays. Forget the small hotel room and sent his stay in spacious and comfortable apartments in the city center.

Residence Rybná has a really interesting history that dates back to the 15th century. Originally called The House at the Red Horse in the 19 century, was rebuilt in the late classicist style. Being a typical corner house in a prime location in the sought after center area, which is a pleasant surprise for everyone.

Gable house has a simple but pleasing and fits perfectly into the surrounding buildings. It is a three-floored tastefully and originally arranged. In total there are five apartments with one bedroom, one two and one three-bedroom serviced apartments in Prague. All apartments are beautifully furnished and luxurious amenities to the high standards of accommodation. The house has been preserved the original stonework and beams, making the Prague serviced apartments a special atmosphere.

One apartment on the first and second floor consisting of one bedroom with its own entrance to the bathroom, a lounge with a kitchenette. Similarly situated is a two bedroom apartment on the second floor. On the third floor there is a jewel of Residence: attic duplex apartment with three bedrooms. The last serviced apartments in Prague has also air conditioning which is very fine in summer.

If we check the amenities of our serviced apartments.you will find all needed for long term stay and short term stay as well: bathroom (bath) / WC, Satellite-TV, Hi-Fi, ironing facilities, toaster, microwave oven, kettle, washing machine, safe, hairdryer, fully equipped kitchen, washing machine, refrigerator, bed linen and towels, internet, twin beds, extra bed, DVD player, in other words all need for Prague serviced apartment.

As it was stated Residence Rybna is situated in the real centre of Prague in very quiet street. Exactly in Rybna street number 4. There you can find seven serviced apartments in Prague. Our partner says about these serviced apartments: Nestled in the hearth of the Old Town area, this high-tech furnished one bedroom apartment is just a minute walk from the Old Town Square with an unrivalled choice of theaters, concert venues, acclaimed pubs, trendy bars, good restaurants and excellent shopping.

Residence Rybna and its serviced apartments belong to top rated property of ours. If you check the Triadvisor.com you will find that Residence Rybna belong among top ten in the category of Special lodging. Which is very nice, because it means that serviced apartments in Rybna have almost only the best reviews and it has become very popular among our clients. Lets have a look on some review or Prague serviced apartments in Residence Rybna:
We were mid-August 2009 period in Prague and we stayed at the Apartment Rybna specifically at No. 23. Brand new serviced apartments have all amenities (washing machine, dishwasher, microwave oven, and who on and so forth to the delight of my girlfriend) to centrally located minutes from Republic Square and less than 5 minutes astronomical clock. Considering the prime location No need to do any travel passes. (No elevator only flaw) but there are beautiful art nouveau stairs, up to 50 years the problem lies a bit of stairs never hurt anyone. Good daily cleaning and towel change. I say any more at Christmas certainly we will return in the winter there will be a magical atmosphere

Residence Karlova offers a very high standard of accommodation in Prague. Location is really exceptional, right in the heart of downtown Prague. All serviced apartments are comfortably furnished. Upper apartments offer stunning views over the roofs of the Old Town of Prague and the hundreds of towers and churches as no hotel can offer.
Karlova residence offers 5 two-bedroom serviced apartments in Prague, some of which are duplex. Access to higher floors you may use an elevator. Each apartment includes a living room furnished in a simple, modern style. It includes a kitchen, some apartments have a separate kitchen. All apartments are equipped with modern technology: LCD TV, DVD player, hi-fi, wi-fi access. Each of the cozy and at the same time functional bedrooms has its own bathroom.

Some serviced apartments on the top floor are luxuriously. The big advantage is plenty of space and fantastic views of the Golden City, especially the Old Town Square and Prague Castle. If we have a look to Tripadvisor.com we will find out that Karlova residence belongs to second or third decade of listings. Which is not bad, because to overall impressions is very good. Let see one long review from our client for this serviced apartments in Prague:

I just returned from Prague. It was not my choice to stay in these apartments, but last-minute technical problems forced the Prague City Apartments to move us here. I reckon it was a good choice: very central (close to most tourist sites and a large supermarket-Tesco-) and both the apartment and the furniture and appliances are in good condition (or new). I was in a fairly large serviced apartment of two rooms, with my family.

It would be desirable to put in the dark bedroom curtains to regulate the light in the morning, since early dawn. Despite being so central, it is unusual noise at night (groups of people on crossing the street) from affecting the rest if you leave the window open. Our room overlooked a courtyard and there was no noise. Interestingly, in many cases, you're in the courtyard of elevator access to groups of people who do not even greet you, preparing packets or unpacking boxes for the many souvenir shops around.
He can definitely be a good choice for traveling with family or for a visit without haste and without much need for public transport.

According this review, it is clear that these Prague serviced apartments for rent a are located in the heart of Old Town in Prague. Actually the location is directly on the King's road. Because some of the windows are pointed to the street, it may happen on the lower floors that it can be noisy. However, this is a problem only for one serviced apartment the other are in higher floors, therefore there is almost no noise. In other words these apartments are recommended for shorter stays and vacation or holiday rentals in serviced apartments in Prague.