Accommodation in Prague Old Town
Where is Prague Old Town?
Old Town is located in the centre of Prague, respectively old part of Prague was devided into two parts. One part was called Old Town and is it on the right side of river Vltava and the other part was located on the other side of river and it is called Lesser Town. In the Lesser Town you will find Prague Castle or Strahov tower. On the other hand in Old Town you can find Old Town Square, Wenceslav Square or Jewish Town. Both parts are connected with Charles Bridge. See map below for more information.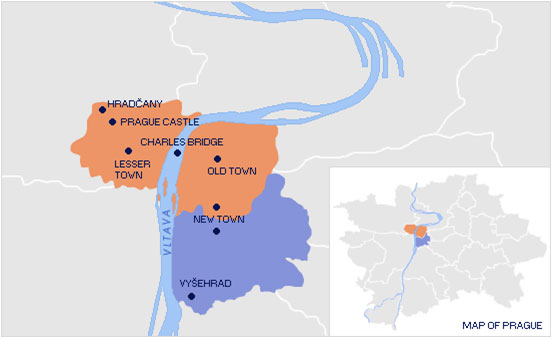 Tourism in Old Town
Prague Old Town is very popular tourist destination. Many tourist attraction take place there like Old Town Square, Jewish Town, Wenceslav Square, National Theatre, National museum, many galleries and etc. Furthermore, these locations is very popular because within a few steps you can reach all mentioned tourist attractions. In addition, a lot of accommodation providers are based there. Hotels like Hilton, Four Season or Marriot are located in this part of Prague. Moreover, Prague apartment providers can profit from these location as well. Due to the big building in Old Town - apartments may offer a lot of space and comfort. Some of these apartments building were built in 14th or 15th centrury and may offer more than great location, you can feel the history and old spirit from the walls of these magic buildings.
Prague Apartments in Old Town
All of our residences are placed in Old Town in the centre of Prague. The location of our apartment buildings are really excellent. Residence Masna is located only a few meter from the Old Town Square, Residence Brehova are placed in the heart of Jewish Town or you can see the National Theatre from the windows of Residence Karolina. Not only location may be provided by our residences. The apartment building of Residence Rybna was built in 15th centrury and the size of apartments in Residence Karlova is also outstanding. We hope that presented features of staying in Old Town apartment's building may help you to decide where to stay when you heading to Prague.
Our Old Town Prague apartments
****Residence Brehova - Spacious Apartments
****Residence Masna - Old Town Apartments
****Residence Karolina Prague - Top Apartments
****Residence Rybna - Apartments in Prague Centre
****Residence Karlova - Top Quality Apartments
*** National Theatre Apartment - Budget Apartments
*** Pension Borsov - Prague Bed and Breakfast


... studio 1-3 pers.
... one bedroom 1-4 pers.
... two bedroom 1-6 pers.
... three bedroom 1-8 pers.

---
Contact our 24/7 guest help line or send an e-mail directly to
Martin Tomasek

Contact us today to see how we can simplify corporate housing for your specific needs.