RESIDENCE KARLOVA
Karlova 42, Prague 1 - Stare Mesto, The Czech Republic
---
---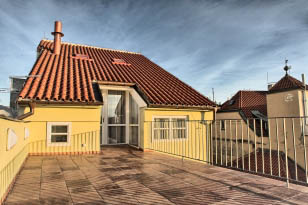 The Karlova residence offers you in total 5 two-bedroom apartments, some of which are duplex once. For an easy access to the apartments on the higher floors you may use an elevator. Each of the apartments includes a newly equipped living room, which is furnished in very modern and pure style. Part of the living room is a kitchenette, some of the apartments have a separate kitchen. All the apartments are supplied with a modern technique, lcd television, dvd – player, hi-fi, wi-fi access is a matter of fact. Each from the two cosy and at the same time functional bedrooms has its private bathroom. Some of the apartments on the top floor are luxuriously arranged in fact. The big advantage of these is a huge space and a fantastic view to the hundred-spired Prague, specially then from one side Old Town Square view and Prague Castle view from the other side.
---
| | | |
| --- | --- | --- |
| | 4.5 out of 5 | 8.8 out of 10 |
---
---
FLOOR PLANS
---
в здании
American Express
AMEX-VISA-EC/MC
массажи
покупка еды и напитков
прокат автомобилей
прачечная/химчистка
лифт




бесплатная детская кроватка
возможно проживание домашних животных
EuroCard / MasterCard
трансфер
уборка каждый день
VISA



в аЯартамĐΜнтах
спутниковое ТВ
гладильная доска
тостер
микроволновка
кофеварка
электрочайник
печь
рефрижератор
посудомойка
сейф
парикмахер
ванная комната (душ)/WC
полностью оборудованная кухня
холодильник
постельное бельё и полотенце
интернет




рабочая область
twin кровать
дополнительная кровать возможна
две ванный комнаты
make-up зеркало
ДВД
WI-FI internet
ДВД
ванная комната (вана)/WC
балкон/терраса в одной из комнат
посудомоечная машина
стиральная машина с сушилкой
кондиционер в одной из комнат
радио
Hi-Fi



---
MAP
---
О районе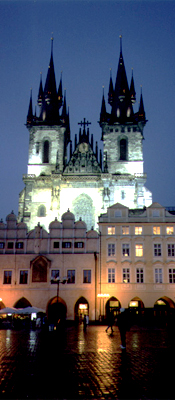 Please welcome to Hradcany – a dreamland of narrow lanes and romantic corners. Character of this old quarter of Prague hasn't changed for centuries and became one of the most popular places of locals as well as visitors. Novy Svet (New World) used to be just an outskirts of the Prague Castle. Today it is a mysterious part of a lovely walk from the Loreto square to the Prague Castle.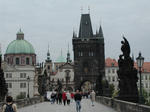 центр
Карлов Мост был построен в 1357 году чешским королём и римским императором Карлом 4 и почти 4 века был единственным соиденением между двумя районами Праги.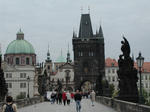 Charles Bridge
Карлов Мост был построен в 1357 году чешским королём и римским императором Карлом 4 и почти 4 века был единственным соиденением между двумя районами Праги.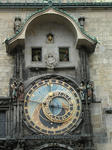 Old Town Square - Astronomical Clock
The Сердцем Старого города считается Старомнестская площадь, известнейшая старая площадь в Праге.
| | | |
| --- | --- | --- |
| | | |
---
---










Testimonials
Two bedroom apartment
"Start to finish, interacting with all Prague a City Apartment staff was a pleasure. Everyone made it so easy for us to book the apartment and also get oriented to the city. In addition, the transport option from the train station and to the airport was incredibly helpful, a good value, and the drivers were punctual. I need to also add that having a staff member actually accompany renters to their apartment is a great idea! I have rented throughout Europe, and this is the first time I've ever experienced this service ..."
See more two bedroom reviews
Three bedroom apartment
"We stayed for a week in apartment #42 from 29 Dec 2014 - 5 Jan 2015. The apartment was fantastic for 5 adults and 3 young children, clean, spacious and with all the facilities to stay in and cook so as to recover from jet lag. The staff at Prague City Apartments made our stay so easy and enjoyable which as greatly appreciated after travelling for over 24 hours on flights from Australia. The apartment, location and service was better than we had anticipated so I am more than happy to recommend this apartment or the services of Prague City Apartment to those who require it."
See more three bedroom reviews
Two bedroom apartment
"The location was ideal, midpoint between the Charles Bridge and Astronomical Clock. Being the top floor, with a rooftop patio, the views were incredible. Air conditioning saved us as there was a heat wave while we stayed but we could come back to our aprtement to cool off. The Prague City Apartment staff was exraordiarily helpful. The arranged for a driver to take us to and from the airport; ..."
See more two bedroom reviews
Three bedroom apartment
"Perfect location and delightful digs for our visit to Prague at Christmas. We were 3 adult couples with plenty of space, privacy, and common areas. Lots of natural light. Would like to have been able to use the steps, but it was only a minor inconvenience to have to take the elevator. Would definitely recommend, and would absolutely stay here again. One block from old town square and the start of Wenceslaus pedestrian walk, and one block from bridge w/ jaw-dropping view of castle at night. Clean. Bright. They even left us a Christmas present under the tree!"
See more three bedroom reviews
Other guests also liked